The OpenAPI Initiative is hosting an OpenAPI track at APIDays Paris on December 14, 2022.
To register, see: https://www.apidays.global/paris#agenda
As a member of the OAI community, you can register with a complimentary pass using the code OAI20. Only 20 are available, so don't wait!
This all-day track focused on OpenAPI Specification issues is a first and will include a wide variety of API topics of interest to both developers and managers. It is intended to become a series of one-day events at APIDays events planned for 2023.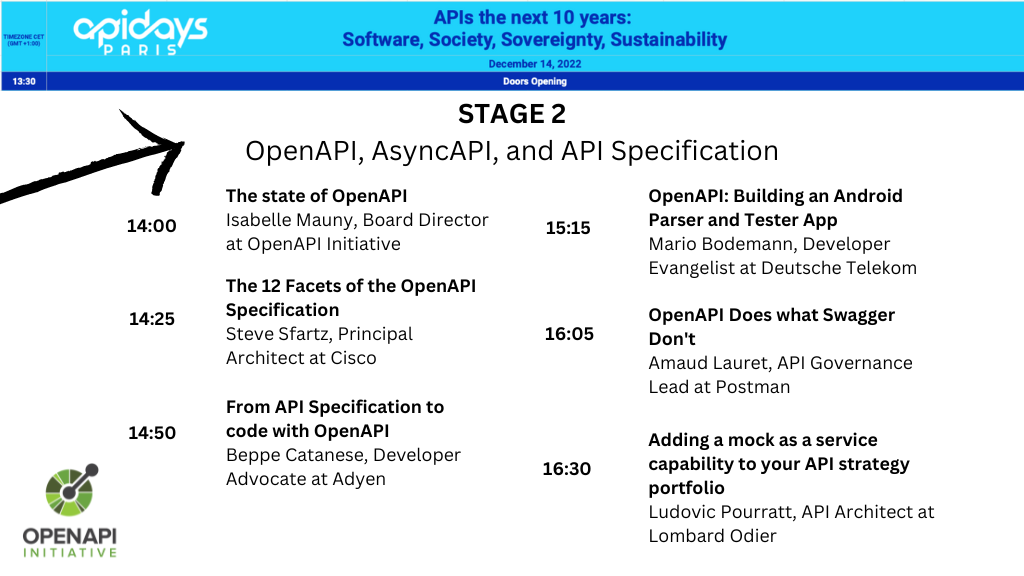 The goal of the OpenAPI track is to bring API practitioners together and share real-world experiences. How are you using the OpenAPI Specification in your company? What are the main strengths and weaknesses? At the end of the track, we will meet to discuss the specification, its evolution, and where it is headed. We will gather feedback from you to bring back to the OpenAPI initiative.
If you are using the OpenAPI Specification in your company and have something to share, please make sure to attend the Community Feedback OpenAPI session starting at 16:55.
The day includes presentations from Isabelle Mauny, Co-Chair at OpenAPI Initiative, on The State of OpenAPI; from Steve Swartz, Principal Architect at Cisco, on The 12 Facets of the OpenAPI Specification; from Beppe Catanese, Developer Advocate at Adyen, covering From API Specifications to Code with OpenAPI; and from Mario Bodemann, Developer Evangelist at Deutsche Telekom, on OpenAPI: Building an Android Parser and Tester App… and many more!