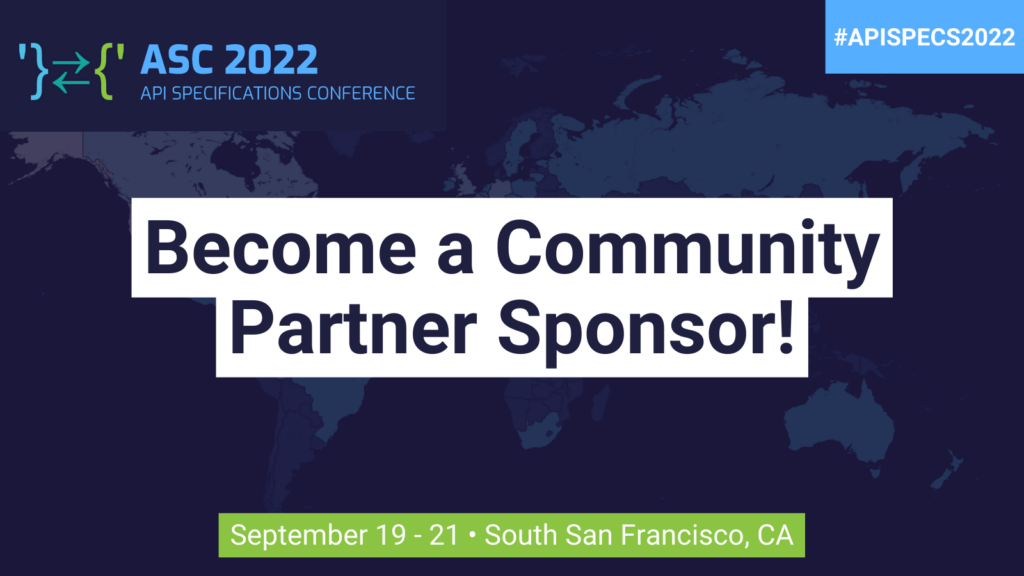 Join us at The API Specifications Conference (ASC) this September 19-21 in South San Francisco! ASC 2022 is a place for API practitioners to come together and discuss the evolution of API technology. ASC includes cutting edge technology keynotes and sessions that chart the future of APIs, in-depth specification, and standards discussions.
The event is designed to be highly interactive with plenty of discussion time throughout the workshops and sessions!
Want to sponsor ASC 2022 but thought it was too much for your budget? Think again!
Community Partner Sponsorships are available for free for OpenAPI Members or $500 to non-members. (If you want to learn more about becoming a member of the OpenAPI Initiative, go here.) This partnership is a great opportunity to connect directly with API practitioners including API developers, API Operations teams, API Designers and Enterprise Architects.
Deadline to sign up is Aug 19th.
All Community Partner Sponsors will benefit from the following:
Display on shared table in sponsor showcase
Logo included in "Thank You to our Sponsors" keynote slide
Logo included in "Thank you to our Sponsors" blog post

Will be posted prior to the event on OpenAPI blog

Recognition on event website (prominent logo display on event homepage)
Post-Conference Data Report: Provides event demographics and additional details on event performance