The API Strategy & Practice Conference is approaching – it's taking place in Portland on Oct 31- Nov 2. I'm thrilled to get to go to another API Strategy conference, my last one being in Austin 2015. This time around, I'll be speaking!
Brief introduction from me – my name is Sai Vennam and I'm a Developer Advocate at IBM. I'm a big fan of Node.js but also play with Java and Go quite a bit. I love speaking about technology that I'm passionate about; that especially includes APIs.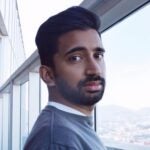 If you're attending, be sure to check out my talk on Wednesday on "Building Serverless APIs for Modern Application Architectures". In the modern era of software development, businesses are using the latest and greatest technologies like serverless functions. However, they still have to support legacy systems and software. I'll be talking about hybrid application architectures that have spawned from these requirements and specifically how serverless APIs fit in.
Serverless is rapidly picking up traction and IBM is at the forefront of this adoption. We've been developing our serverless capabilities completely in the open-source as an Apache project – OpenWhisk. You can also take advantage of the capabilities on IBM Cloud Functions.
In addition to the session, I'll also be at the booth with the talented Erin McKean and other fellow IBMers to talk to you about your newest API projects!
Did you know IBM is a founding member of the Open API Initiative? Learn more about the latest OpenAPI Spec v3.0.0 release.
We hope to see you in Portland! Be sure to come by the IBM booth.
Learn more about IBM Cloud : https://www.ibm.com/cloud-computing/bluemix/.
IBM Bluemix Developer and Advocate
I'm a passionate developer with the drive to work on the newest technology. My position in IBM allows me to work with the latest cloud technology, such as Docker and Cloud Foundry. In addition, I actively work to enable developers using our cloud, IBM Bluemix, by writing blogs, creating videos and engaging online and local communities. I primarily work with Node.js, which has been rapidly rising in support; it is arguably the most popular next-gen language for developing web applications.